Discover more from Kausfiles
Cars, cash, politics (not necessarily in that order)
Over 5,000 subscribers
Into the Void!
#5--Special Gloves-Off Edition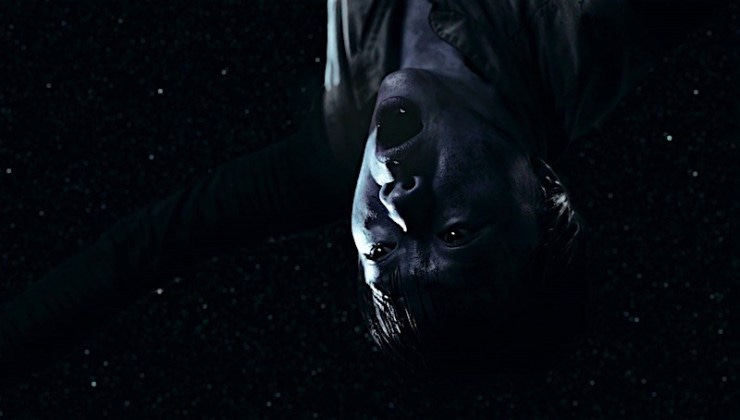 Will the Donorists Get Spaced? The recent National Conservative Convention raised a question I've been failing to answer since November, 2016: What happens now to Republicans of the formerly dominant Paul Ryan consensus — advocates of smaller government, lower taxes. voucherized entitlements, more open borders, and freer trade? It's not just that they've been abandoned by the Tucker Carlsonite nationalists at evidence at that convention—they are despised by the people at that convention as the "donorist" champions who hollowed out the middle class, deprived working men of their dignity and devastated the intra-coastal states that are now the Republicans' base.
More important, they've seemingly been repudiated by the voters. Republican Congressmen who toe the old line ('I don't see how you can have free movement of goods without free movement of people,' Ryanist Vin Weber said as recently as 2012) are either cowering in fear, retiring, or leaving the party. Ryan himself has quit. His national future looks bleak. His stock in the capital is in free fall, except with reporters who need inside quotes on the early days of Trump. (Ryan may be a special case: He's in double trouble in DC, since he's hated by both Trumpists and by anti-Trumpists, who view him as a Vichy collaborator.)
Can Ryanists' differences with the new post-Trump GOP be papered over, the way libertarian and social conservatives papered over their differences to form the Reagan coalition? It's a dreary prospect, requiring copious bad faith on both sides. (Think of Ryan pretending he was for a controlled border, and a wall, even as he snookered Trump during the first half of his first term. Ryan got his tax bill. Trump got nothing.) It would be ideologically much easier for Trump/Carlson Republicans to hook up with pro-Social Security, anti-trade Democrats.
On my favorite TV show, the interplanetary sci fi drama The Expanse, characters are often "spaced"—sent out alone into the void on the other side of the airlock to (usually) die. Why won't the Ryanists be spaced, locked out into the vacuum? They do not seem to have a natural political home anywhere. I know the feeling.
Maybe this wishful thinking—Ryanists presumably still have donors backing them. Maybe they can buy their way back in. They can knock on the Trump GOPs windows, I suppose, pleading for asylum on humanitarian grounds. 'Please, take me in. I have lots of money!').
I vote for sending them to a safe third party.
P.S.: I'm not talking here of mere Never Trumpers, like David Brooks or George Will, who never adopted the full Ryanist agenda. They've found their home on the op-ed pages and cable roundtables. I also haven't mentioned Neocons, proponents of an assertive US foreign policy, especially in the Middle East. In a surprisingly savvy move (soon to be emulated by smarter donors?) they showed up in force at the NatConCon, which featured a speech by John Bolton and talks by Clifford May and Daniel Pipes. You want to be on the train when it leaves the station, no? Even if the other passengers are muttering along with Tucker Carlson about "endless war."
__________
The Most Important Chart — Updated
I've always thought the chart below was the key to the changing texture of our society — and, not coincidentally, the best explanation for Trump. It shows wages for the least educated (no high school degree) falling out of the bottom of the pack: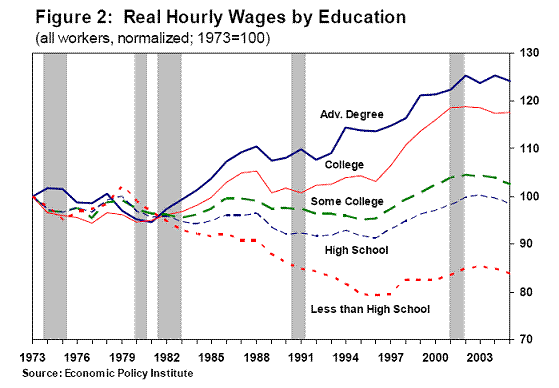 In 2017 it was "hard to see how traditional American-style social equality — everyone's equal, not only in the eyes of God or before the law but in the eyes of each other — can survive many more decades of this chart." In this view, social equality can survive the rich getting richer. It can survive American excesses of abstract income inequality—big Gini, small Gini, meh Gini. It can survive poverty and survive fellow citizens being plunged into poverty (or elevated to fantastic heights) via the standard combination of luck and choice. But it can't survive the ongoing economic decline of an identifiable, settled-out class of meritocratic 'losers' — people who can be seen (in the majority's eyes) as not smart or perservering enough to climb the first rung of the academic credential ladder. ("Merit = Ability + Effort," remember!) As of 2005, when the chart ends, these people were heading for the scrap heap of society (and the pages of a Chris Arnade book). Hard to maintain your sense of equal respect when you're told not only that you're poor but, by accepted social metrics, you kind of deserve to be poor.
Has this trend turned around? An updated chart.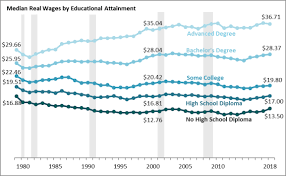 Yes, it has! A bit. But only in the last four years. The line on the bottom (non-HS grads) has only really yipped up since … well, since Trump's election. That's probably because 1) the labor market at the bottom finally got tight enough, after a decade of falling unemployment that started under Obama; 2) Minimum wage hikes in some labor markets had an effect; and 3) Illegal immigration began falling in 2007. Even if we only held unskilled immigration constant, economic growth means that eventually employers will run out of people to hire and resort to wage increases.
The recent gains have not come close to making up the loss, at the bottom, between 1979 and 1997—the decades of, well, carnage. The Congressional Research Service Chart above shows the median wage of "no HS" workers was $16.88 in 1979. It fell to $12.76 in 2000. Now it's clawed back up to $13.50 — still down a fifth from '79, in an economy that has almost tripled in GDP.
I checked with labor economist Gary Burtless of Brookings—a trusted source. He confirmed that recent gains haven't made up for the earlier losses, though his data (which use a different inflation adjustment) show a considerably smaller overall decline. What was more heartening were charts Burtless compiled, using stats from the Economic Policy Institute, looking at what's happened since 2000: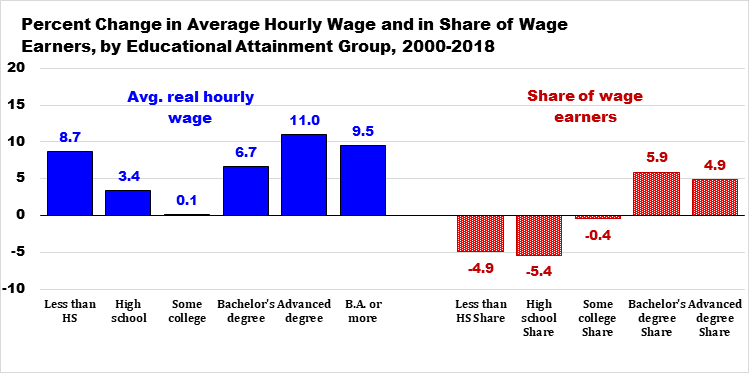 It turns out the unskilled have done relatively well, at least if you count the fat Trump years—sorry that just slipped out, I mean recent years.** Yet in the period since 2000, the accepted causes of lower wages — trade (sending unskilled work overseas) and technology (automation) have hardly stopped. Perhaps they'll begin to bite again soon enough. But maybe the good news is that workers at the bottom aren't victims of an ongoing, grinding down that's inherent in today's capitalism after all. They were just the victims of a one-time '80s/'90s shock. Or maybe the news is that a reduction in the third, unfashionable-to-mention factor — immigration — has managed to counter the ongoing grind-down for a decade.
Whatever the cause, Trump will take credit.
____
**—That isn't true for the ill-fated "some college" group, which has been crippled (presumably by trade and automation). A lot of Trump-splainin' power in that stat.
__________
Two More Epstein Theories (in addition to #1--#8)
10: It's Ghislaine's Money: According to the highly speculative, evidence-free scenario in an e-newsletter in circulation, Epstein might be able to trace his fortune to a hidden stash of dodgy funds that British press baron Robert Maxwell secretly set aside for his beloved daughter Ghislaine, Epstein's great friend. In this tale, Epstein figured out how to launder the money, which they then split. Have I mentioned there is no evidence for this theory? Assume it's fan fiction until further notice.
9: It's Wexner's money. See this NYT piece, which is fuzzy on just how Wexner's money would have migrated to Epstein (given that "a person with knowledge of Mr. Wexner's finances" tells the Times Epstein actually paid millions for Wexner's NY house and Boeing 727). All I'll add is this: If Wexner did in effect give Epstein hundreds of millions, that doesn't seem like something you'd do just because someone gets you girls, does it? Or because you admire their business sense. It's something you'd do because you are somehow (intellectually! Platonically! sub-consciously!) in love with them.
P.S.: Epstein was recently found on the floor of his cell with bruises on his neck, prompting speculation that either he attempted suicide or someone tried to harm him. An elite conspiracy to silence Epstein, if one existed, might be the only bipartisan initiative of 2019. …
__________
First Impression, Best Impression: Comes now satirist Sarah Jeong of the NYT with an opinion piece about Sec. 230 of the Communications Decency Act — the provision that shields internet platforms like Facebook from ordinary legal liability when they post content written by others. Jeong slams Republicans for claiming Sec. 230's protection was based on the idea that Facebook et al would be politically "neutral." It wasn't, she says. OK. I take her word for it — i.e., the law as written protects Big Tech while letting them get away with distorting debate to favor one side (by, say, suppressing its posts).
The obvious next question is whether it should do that. Jeong doesn't tackle this, though it's the main issue in the debate. My first editor, Charles Peters of The Washington Monthly, had a phrase, "Play Notre Dame," meaning you should always confront the strongest, not the weakest, argument against you. It's easy to sneer that Senators Hawley & Cruz should "actually read" the law. They're Republicans! You can always sneer at Republicans in the NYT. But someone at the paper should have made Jeong play Notre Dame.
P.S.: She shows similar bad faith when pretending a "neutrality" requirement would necessarily be like the Fairness Doctrine's now-defunct "balance" requirement for broadcasters. But a rule that says 'Don't screw around with what's posted'—which is all many conservatives are asking for—is not the same as 'make sure what's posted is "fair and balanced."'
'Don't get a young journalist fired for a few bad tweets!,' they said a year ago. 'Her pieces for The Verge are good,' they said. Maybe The Verge has better editors.
__________
Fernwood on the Thames: In Quillette, Toby Young confirms the impression given by Boris Johnson's speeches: Johnson seems to be mocking himself and the rhetorical war he's waging even as he wages it. Very meta. Fans of Martin Mull's acting will find it familiar.
Does this mean Johnson 'gets the joke,' or the joke's on us? Or both?
__________
Come Back, Jed Clampett: The notorious EB-5 program allows foreigners to essentially buy green cards for an investment of $1,000,000. Cheap! A new Trump reform has raised the price to $1.8 million — but it's only $900,000 for projects in "rural" areas. Which means the race to redefine Beverly Hills as a rural area is on. For a reasonable six-figure fee from the Kushners, I will arrange to put a cow in a friend's backyard to provide the proper rustic ambiance.
__________